This year's London Marathon was officially the hottest on record.
More than 40,000 runners took part amid temperatures of 24.1C (75.3F) which were recorded in St James's Park, the Met Office said.
Runners were warned it could be even hotter on the course because of the heat absorbed by the roads and from other competitors.
The 26.2-mile race was started at 10:00 BST by the Queen who pressed a button from the grounds of Windsor Castle.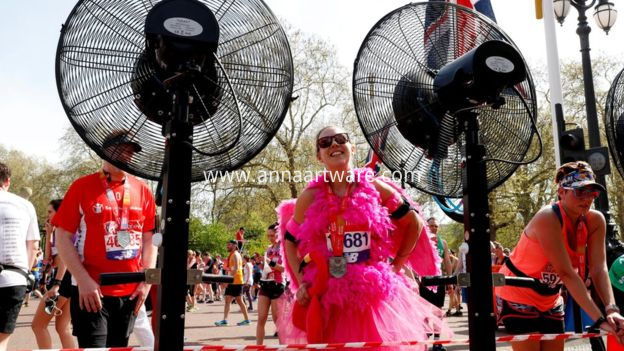 A high of 22.7C (72.8C) was recorded at St James's Park in 1996 and 22.6C (72.6F) in 2007 - when one runner died after collapsing during the race and 73 had to go to hospital.
London Marathon event director Hugh Brasher said organisers distributed four-and-a-half litres of water per person - more than any other mass participation event in the world.
However, he admitted water did run out at miles eight, nine and 10.
Mr Brasher added that the event, which has seen more than 38,000 finishers, was "planned thoroughly" and organisers would see what lessons could be learnt for next year.
Before the start of the race, organisers warned the high temperatures could be especially difficult for fancy dress runners.
Almost 100 competitors attempted to enter the Guinness World Records dressed in outfits such as a suit of armour, a Paddington Bear costume and ski boots.
Rob Pope set a new world record time for a competitor dressed as a film star, crossing the line dressed as Forrest Gump in just over 2 hours 36 minutes.
Mr Pope, who is running 15,000 miles across America following the route run by Tom Hanks' character, said he had "never seen crowds like that".